What you need to know about your 15 DVC Resorts
October 20th, 2021 Back to posts
---
October 11, 2021 By Dvc Advantages
Through the 28 years of being a DVC Member and 17 years working for Disney DVC, one of the most common questions we would receive was which resort do we like the best. My answer was always, "depending on what we wanted for our trip". We love all the DVC Resorts and they each provide something different to individual families. So, we wanted to try and answer some of your questions by letting you know what we loved about each resort and a little more about each one.
As you read through each resort, some people find it helpful to think about their likes and needs, as this may influence which resort you are thinking about buying for your "Home Resort". Remember your Home Resort gives you access to book up to 11 months in advance, while the other resorts you can book up to 7 months in advance. Some other things to consider are "what accommodation size is important to you for your normal stay and special stays that might include extra family members". Also "is the location of the resort on Walt Disney World important, along with transportation options".
While staying at a DVC Resort as a member, please always remember to spend some time with the kids in Community Hall. Most DVC resorts have one and provide a nice relaxing day with the family, and they will even allow you to check out games to take back to your room. It is a great way to get out of the sun. Check out the activities schedule for certain programmed entertainment
When you are at the Happiest Place on Earth or one of their away resorts, how could you go wrong? Just remember what you want out of your time and try to match it up with the resort that fits your needs! We always tried to break it down into 3 categories; did we want to be really busy in the parks, did we want a staycation, getting away from the hustle and bustle of Walt Disney World and was ease of transportation important.
Below we will break down each resort for you individually in alphabetical order. Please remember these are our thoughts, each family is going to have their own and we are excited with the opportunity to help you here at DVC Advantages!
Aulani Resort: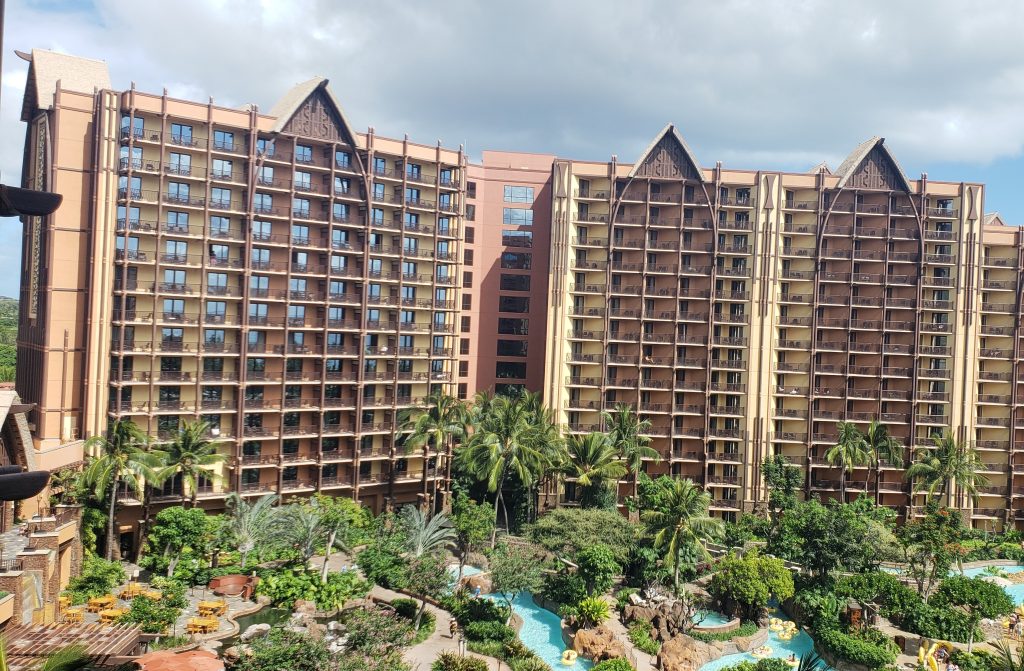 This is the only resort we have not had the opportunity to visit firsthand, so we will be relying on a couple of very close member friends that truly enjoy Aulani. It is located on the north side of the island of Oahu. Most people will rent a car at the resort for the day they need it, therefore not having to pay for parking for the whole trip. They will take a Uber/taxi from the airport upon arrival and departure. Amenities for the resort include a dining restricted to resort guest, lazy river, lagoon you can snorkel in with salt water fish and an awesome beach area with a protected cove inlet. The resort also includes one of the areas top spas covering 18,000 square feet. A couple must sees in the area are Pearl Harbor and the Dole Plantation. Check out our DVC Aulani page or Disney's official Aulani page.
Animal Kingdom: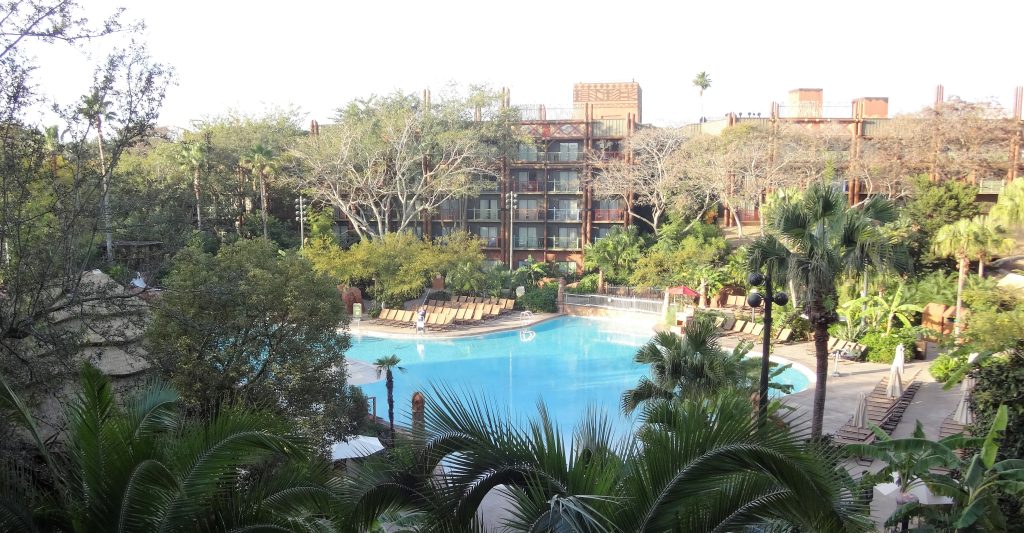 Animal Kingdom has 2 main resorts, Jambo House and Kidani Village and as a DVC member you have access to stay in both. Jambo is the main resort, also known as Animal Kingdom Lodge. It hosts DVC members and Walt Disney World guests. Kidani is next door and was built exclusively for DVC members. They have a majestic lobby and is host to one of the largest collections of African artifacts in the world. As our girls were growing up, we loved having birthday parties for the night in a 3 bedroom in either resort. There is nothing like waking up and going out to your balcony to see the animals in the savannah, so beautiful. A vision you must experience! One of my wife's favorite dinner locations is Jiko's located in Jambo House. Some families also love dining at Boma and Sanaa. Please consider the location as it is the furthest from the theme parks and bus is the only mode of transportation. Check out our DVC Animal Kingdom page or Disney's official Animal Kingdom page.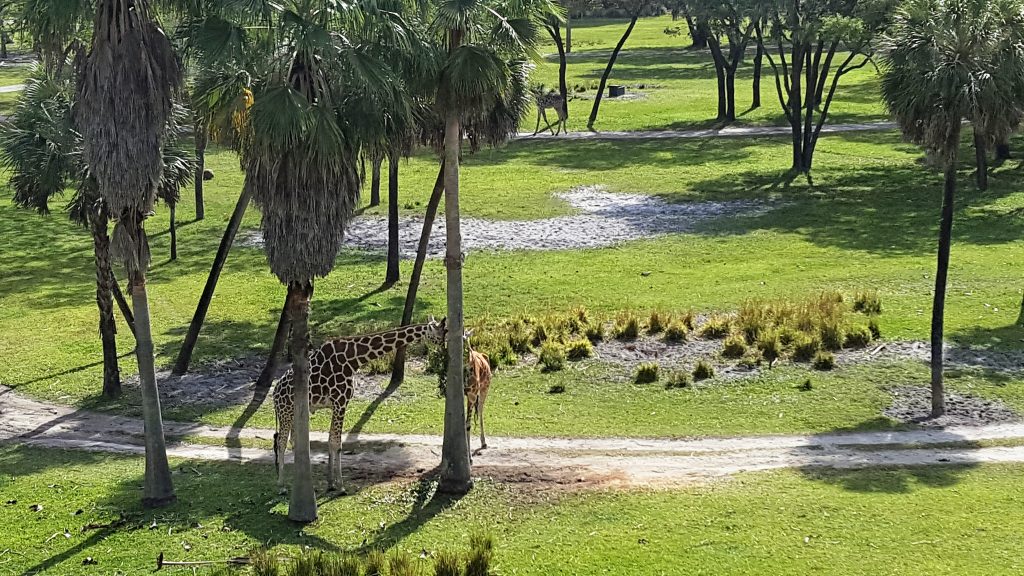 Jambo House
Room Sizes: Studios to 3-Bedroom Villas. The 3 bedroom Grand Villa in Jambo is a single story suite that includes 3 large balconies and a pool table room. The master bath is one of the more impressive baths in the DVC collections.
It has 2 very sought after room types in Value and Concierge. These rooms can be very difficult to find available, due to their limited number of rooms. Having your Home Resort at Animal Kingdom is very important if you desire these room types.
Kidani
Room Sizes: Studios to 3-Bedroom Villas. The 3 bedroom Grand Villa in Kidani is the more traditional 2 story floor plan.
I think this location has the better pool and kids play area, although if staying at Jambo House you are still able to use Kidani's pool.
Bay Lake Towers Resort: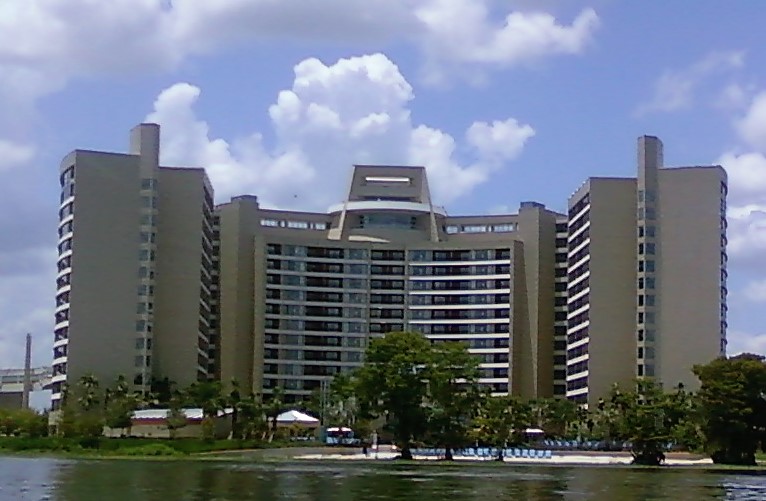 Room Sizes: Studios to 3-Bedroom Villas
Bay Lake Tower is a single building on the monorail, that provides 3 different views; Theme park, Lake and Standard and is located right next to the Magic Kingdom. It is connect by an elevated walking bridge from BLT's fifth floor to Disney's Contemporary Resort on the 4th floor, therefore providing easy access to the monorail. One of our favorite places on WDW property is the Top of the World Lounge, which is exclusive to DVC Members and located at the top of the resort. This can be restricted during certain times of the year for members not staying at BLT, so be sure to ask about current restrictions if you are planning a visit. Originally this was the only DVC Resort that you could walk to the Magic Kingdom and in my opinion, it is still the only one that I could recommend for walking. Other modes of transportation outside of the monorail include bus and boat. The studios are on the smaller side, but the 1 and 2 bedrooms are on the larger side. It also provides a 3 bedroom villa Grand Villa. Check out our DVC Bay Lake Tower page or Disney's official Bay Lake Tower page.
Beach Club Resort: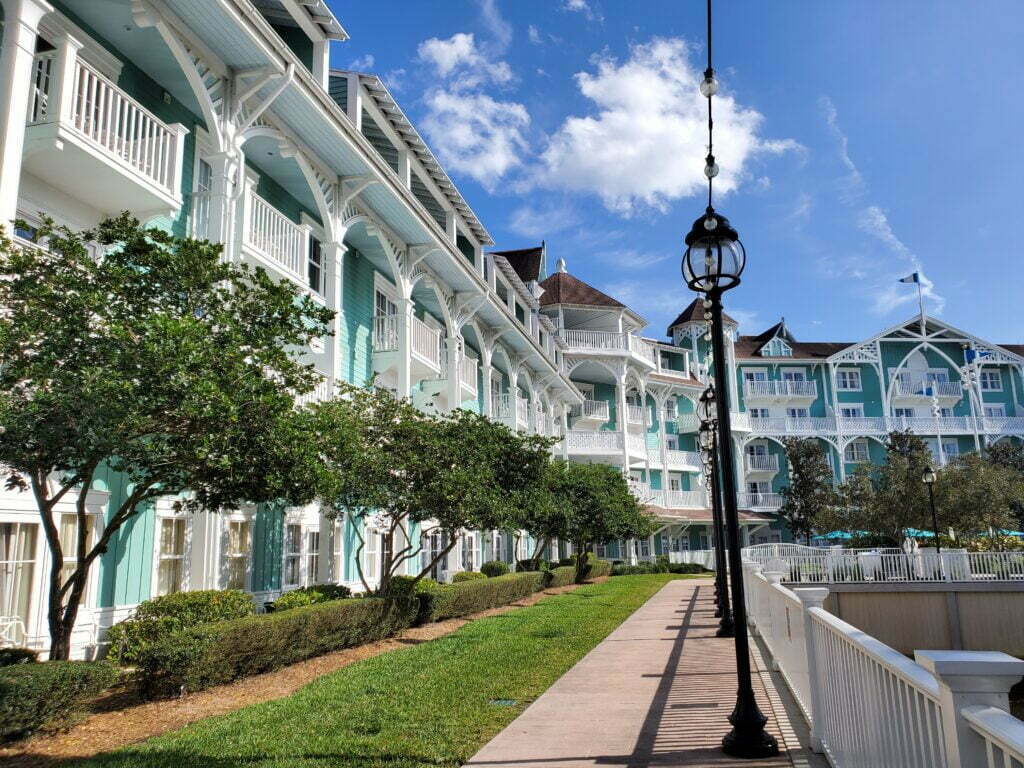 Room Sizes: Studios to 2-Bedroom Villas
Well, where do you start with Beach Club? This resort provides it all and is probably the hardest resort to make a room reservation in WDW. Having Home Resort Ownership is important if you want to stay here often. It shares the same land as Yatch Club and the 2 resorts are connected to each other. We always loved using Beach Club as a staycation. What we mean by this is, it is so hard to leave the resort why not just stay there and not leave? It provides studio to 2 bedroom accommodations and the most sought after pool on Walt Disney World property. Some people refer to the pool as a small water park. It is very large in size and has 3 different areas including its own sand bottom pool and a lazy river. Guests of all ages love the pirate ship water slide. The location is fantastic allowing you to walk or ride the boat to Epcot and Hollywood Studios and walk to the Skyline Gondola system at the back entrance of Epcot. The setting is stunning overlooking Crescent Lake and the Boardwalk Resort. If you are lucky enough to get a room there, consider the Staycation! Check out our DVC Beach Club page or Disney's official Beach Club page.
Boardwalk Resort: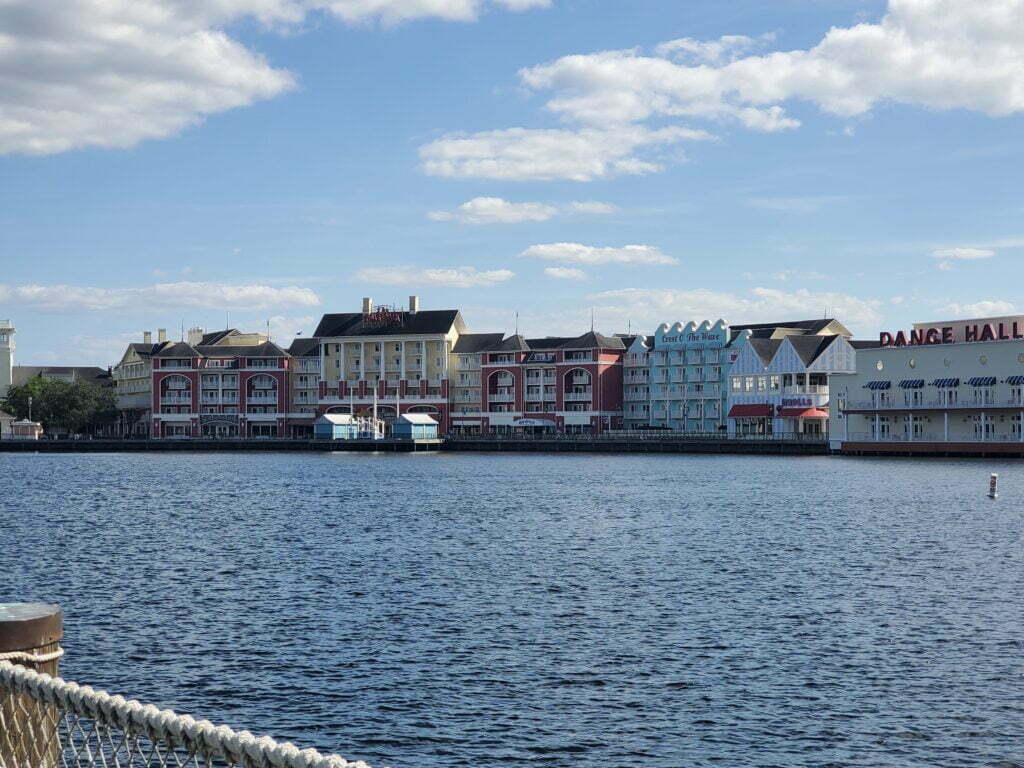 Room Sizes: Studios to 3-Bedroom Villas
Boardwalk sits across Crescent Lake gazing upon Beach and Yatch Club. It shares the same transportation options as Beach Club, which are walking and Boating to Epcot and Hollywood Studios and walking to the new Skyline Gondola system at the back entrance to Epcot. The lobby is small but beautiful and being located on the Boardwalk itself provides many dining and entertainment options. Families love the location and being a larger resort, it is much easier to get a room in than Beach Club. Our girls loved coming down the water slide and out of the clown's mouth, so sad they changed that. While the features and amenities of the Boardwalk Strip appeal to many, some prefer the quieter room locations away from the strip. Check out our DVC Boardwalk page or Disney's official Boardwalk page.
Wilderness Lodge Resorts: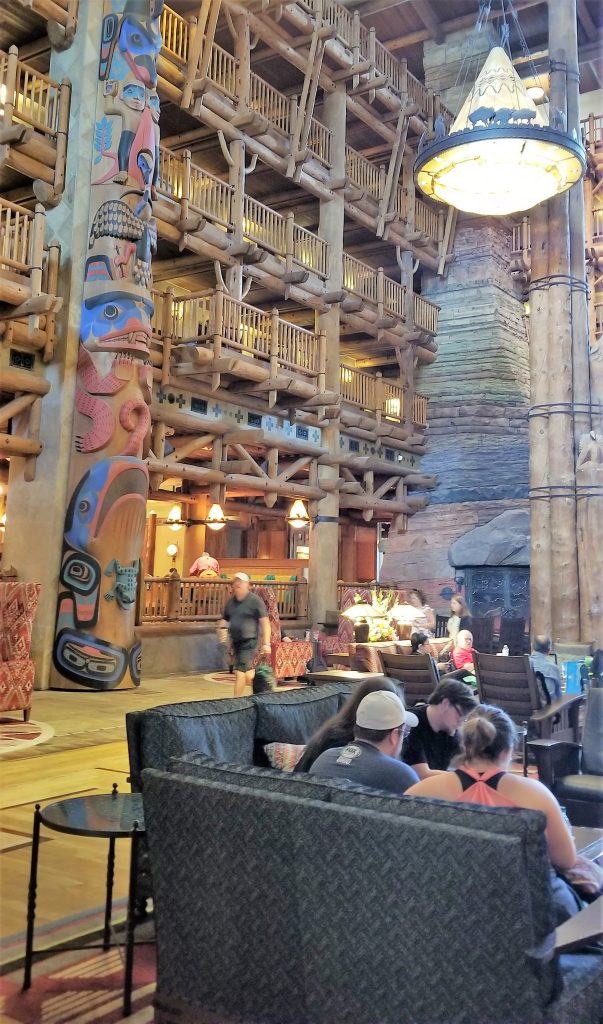 Wilderness lodge is a Magic Kingdom Resort. There are 2 DVC resorts located here Boulder Ridge and Copper Creek. Copper Creek is part of the main resort. Families love the beautiful natural woodsy setting the main lobby provides and has a fireplace that goes from floor to ceiling. There are many popular dining spots including Whispering Canyon and Artist Point in the main lobby, along with Geyser Point Bar and Grill on Bay Lake. There is so much to do at this resort including biking and boat rentals, jogging trails, fishing excursions and 2 pools to relax in. You will love the main pool setting, reminds me of being out west in Yellowstone. It offers primarily bus transportation throughout WDW, however they do offer a wonderful boat ride to Magic Kingdom.
Boulder Ridge Resort: Check out our DVC Boulder Ridge page or Disney's official Boulder Ridge page.
Room Sizes: Studios to 2-Bedroom Villas
This resort is located alongside the main Wilderness Lodge building. You will check in just like any other guest to the resort in the main lobby. If you have a need for a 3 bedroom or cabin and like the Wilderness Lodge, I suggest having ownership in Copper Creek. This building offers a 1st floor sitting room with train theme, perfect for game nights or spending time with extended families.
Copper Creek Resort: Check out our DVC Copper Creek page or Disney's official Copper Creek page.
Room Sizes: Studios to 3-Bedroom Villas
This resort is located inside of Wilderness Lodge.
Grand Californian Resort: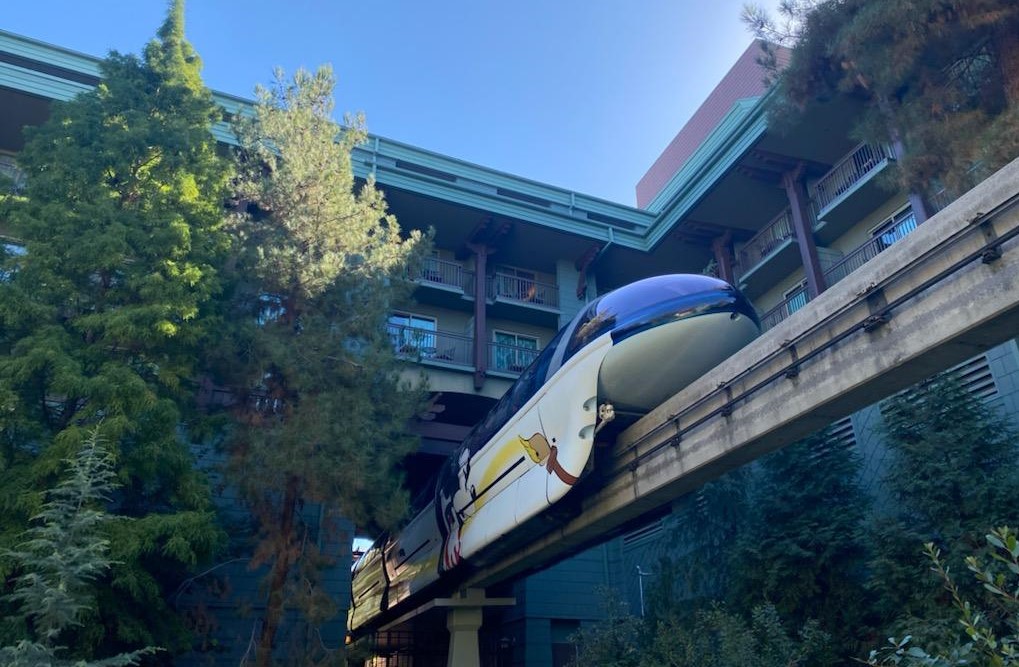 Room Sizes: Studios to 3-Bedroom Villas
Currently Grand Californian Resort is the only DVC located at Disneyland in California. There are only 48 rooms, so having Home Resort priority is a must here.  What we loved about staying at this resort is the location. The front entrance is on Downtown Disney and back entrance takes you right into California Adventure, you can't get any closer than that! For those that are familiar with Wilderness Lodge in Walt Disney World, this resort reminds me a lot of it. It is a wonderful resort for families with special needs. It offers wheelchair accessible tubs and showers, as well as hearing accessible rooms that offers visual alarms and notifications. Check out our DVC Grand Californian page or Disney's official Grand Californian page.
Grand Floridan Resort: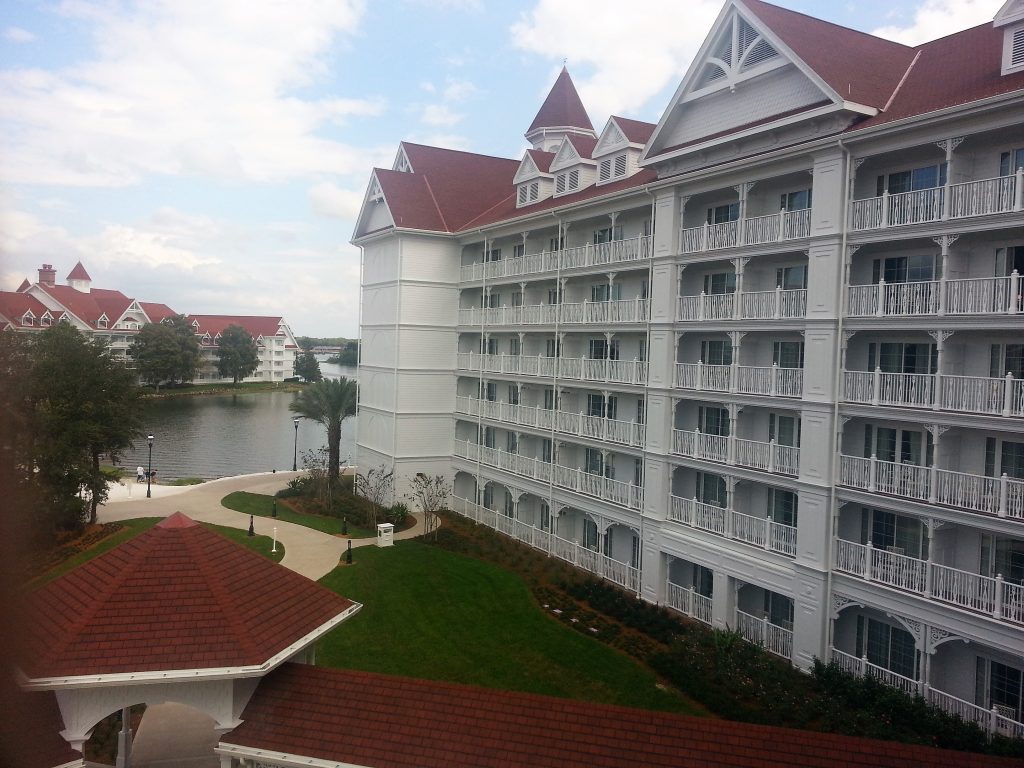 Room Sizes: Studios to 3-Bedroom Villas
The Grand Floridian is a Magic Kingdom resort and is known for its Victorian Grandeur. It has the monorail to Magic Kingdom and Epcot, buses to Hollywood Studios and Animal Kingdom and even a walkway to Magic Kingdom as transportation options. Amenities include multiple pool and dining options, a spa and health club. You will love the view you get on Bay Lake. Check out our DVC Grand Floridian page or Disney's official Grand Floridian page.
Hilton Head Island Resort: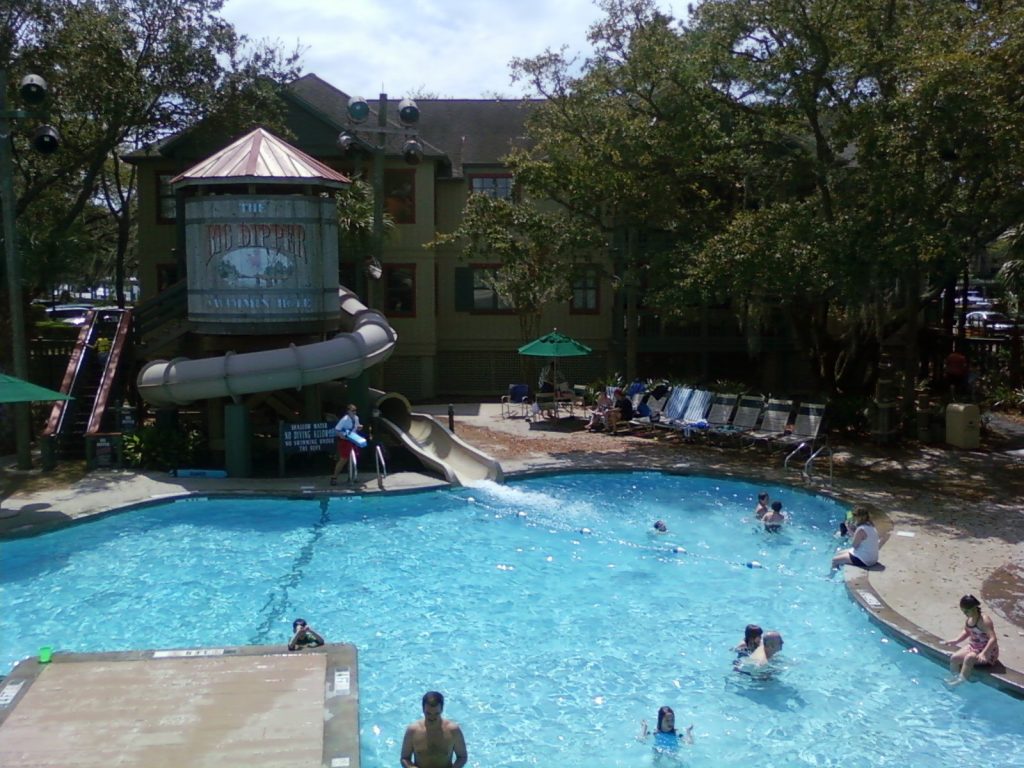 Room Sizes: Studios to 3-Bedroom Villas
Hilton Head is one of the three DVC Resorts not located around a theme park.  The island is nestled in the lower region of South Carolina and around a five hour drive from Walt Disney World. The surroundings are full of natural wildlife and beauty. We have seen Bald Eagles to Dolphins right at the resort. We love our day trips to Savannah (40 minutes) and Charleston (1.5 hour). The area is abundant with our country's history. While you are there, please remember to take one of the highly sought out Ghost tours! Check out our DVC Hilton Head Island page or Disney's official Hilton Head Island page.
Old Key West Resort: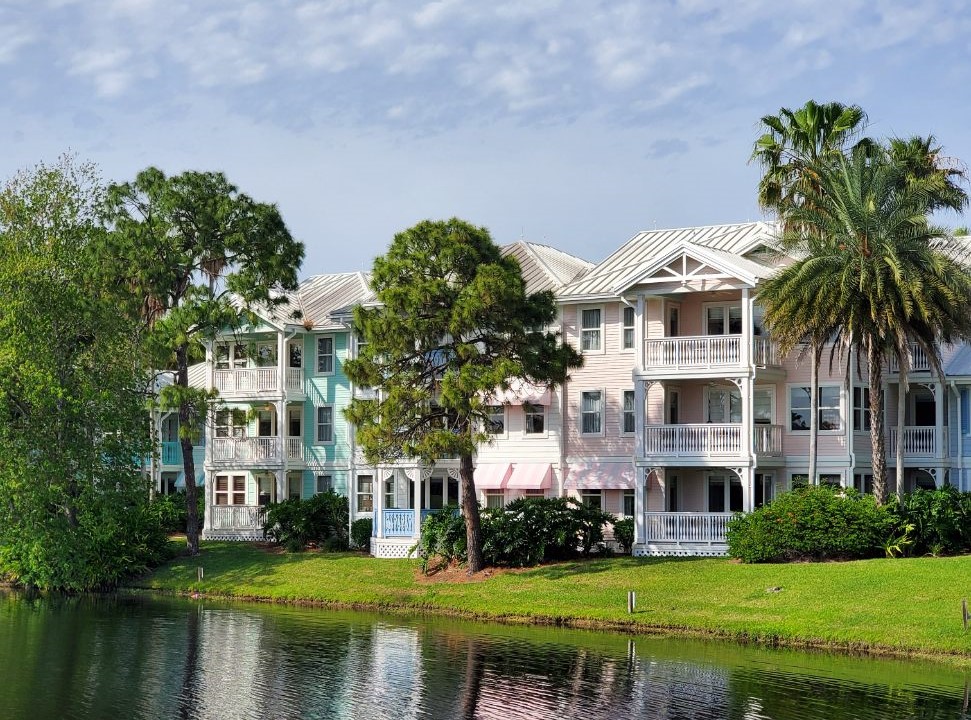 Room Sizes: Studios to 3-Bedroom Villas
Old Key west is the original DVC resort and when we bought DVC in 1993 it was actually called "Disney Vacation Club". For us staying at this resort always brings us back to the start of our journey and holds a very special place in our hearts. We could start our day at Olivia's for breakfast and then get ready for our day in the Magic! It provides all the room sizes ranging from studios to 3 bedrooms. One thing to keep in mind is the studios have 2 queen size beds and sleep 4, many of the DVC resorts have been upgraded though time to sleep 5. It is a very large property so be ready for some bus time, this never bothered us because it gave us some time to plan out our day. Check out our DVC Old Key West page or Disney's official Old Key West page.
Polynesian Resort: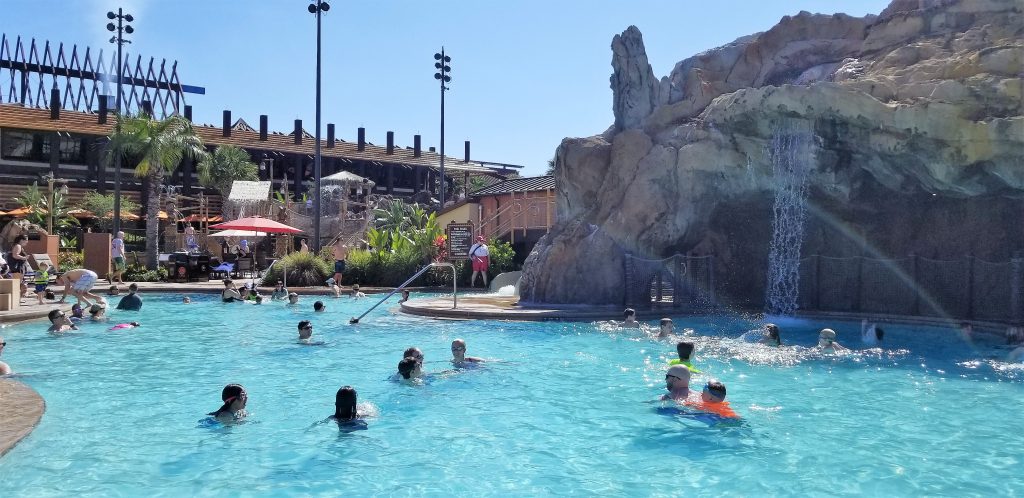 Room sizes: Studios and 2 Bedroom Bungalows
The Polynesian is one of the original Disney resorts at Walt Disney World. DVC took over three of the building a couple of years back and remodeled them for DVC and added the Bungalows. If you are looking for a stay to remember. Try one of the Bungalows, even if it is for just one night. Do it for the last night, so you are not changing hotel rooms again. The experience is amazing. You will have the best views of the Magic Kingdom fireworks off your balcony. The studio Lake view room is also great for this, just remember to ask for the 2nd or 3rd floors when making a reservation! Reminder floor levels are not guaranteed, so I would recommend calling the resort about 5 days in advance of arrival to request this. As far as dining goes, families love Ohana's, and we like Kona Café too. For a special treat get the Tonga Toast in the café and a Dole Whip for dessert! Check out our DVC Polynesian page or Disney's official Polynesian page.
Riviera Resort: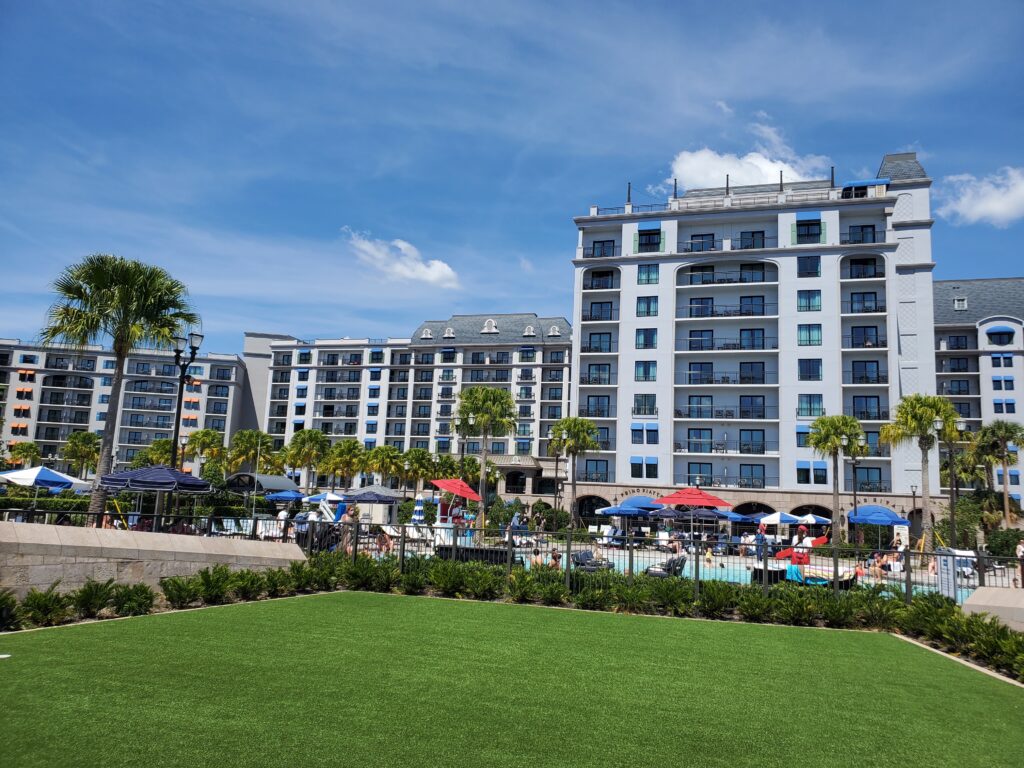 Room sizes: Studios to 3-Bedrooms Villas
The Riviera is Disney's newest DVC resort. It has a very central location to Walt Disney World. It introduced Disney's newest form of transportation the Skyline. The Gondola's will take you to Hollywood Studios and Epcot in a very efficient way. If you are afraid of heights, you will still be able to travel by bus to the themed areas. There is a lot to see around the resort, so don't forget to see the spectacular tile artwork on your way to the Skyline Gondola. Some of the artwork inside the resort can be purchased, feel free to ask within. There are 4 different dining experiences on property with the most popular being Topolino's Terrace at the top of the building, with a character breakfast. The terrace at the top of the building gives some great views of fireworks at Hollywood Studios and Epcot. Check out our DVC Riviera page or Disney's official Riviera page.
Saratoga Springs Resort: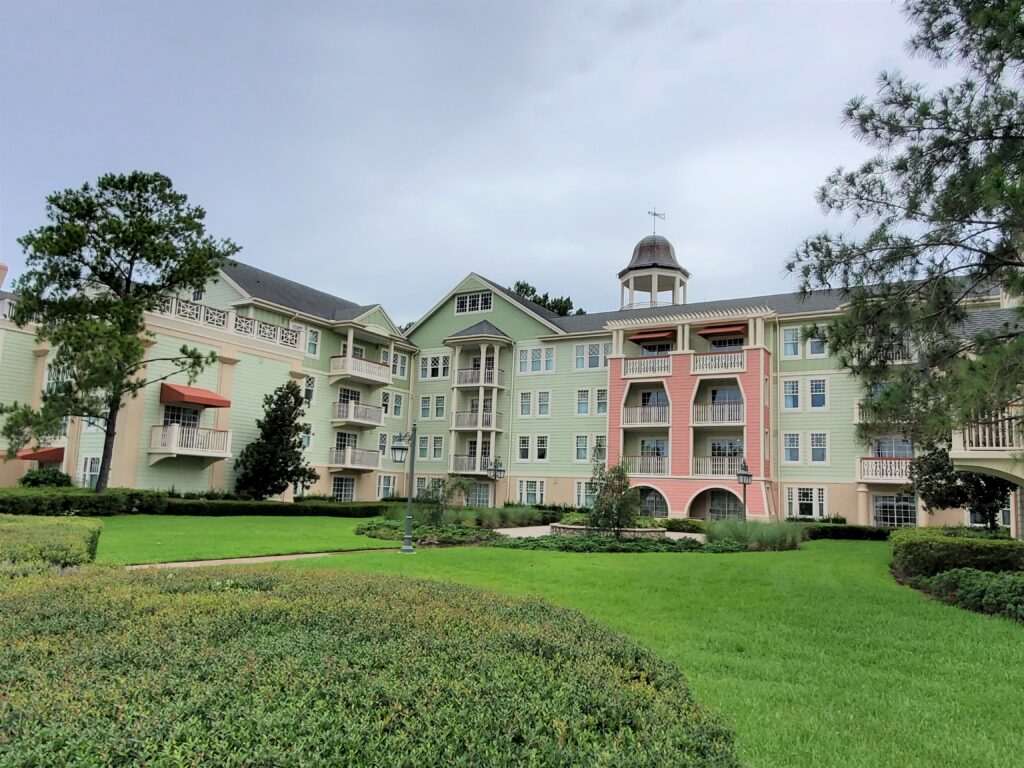 Room sizes: Studios to 3-Bedrooms villas, plus 3-Bedroom Treehouses
Saratoga is located next to Disney Springs (formerly know as Downtown Disney) and has become more popular with the Springs enhancements. families love being able to walk to the Springs for some dinner or shopping. Saratoga provides bus transportation to all the Theme parks. It is the largest of the DVC resorts by accommodation numbers and is a very spread out property. Like OKW get ready for some bus ride time when you stay here. If you want to avoid some of of the bus time ask to be in in the Grandstand building, as it is the 1st bus stop for the parks and more importantly the 1st drop off from the parks. This is important after a long day in the theme parks. We love staying on the water in the Congress Park buildings giving you easy access and beautiful views to Disney Springs. Check out our DVC Saratoga Springs page or Disney's official Saratoga Springs page.
Vero Beach Resort: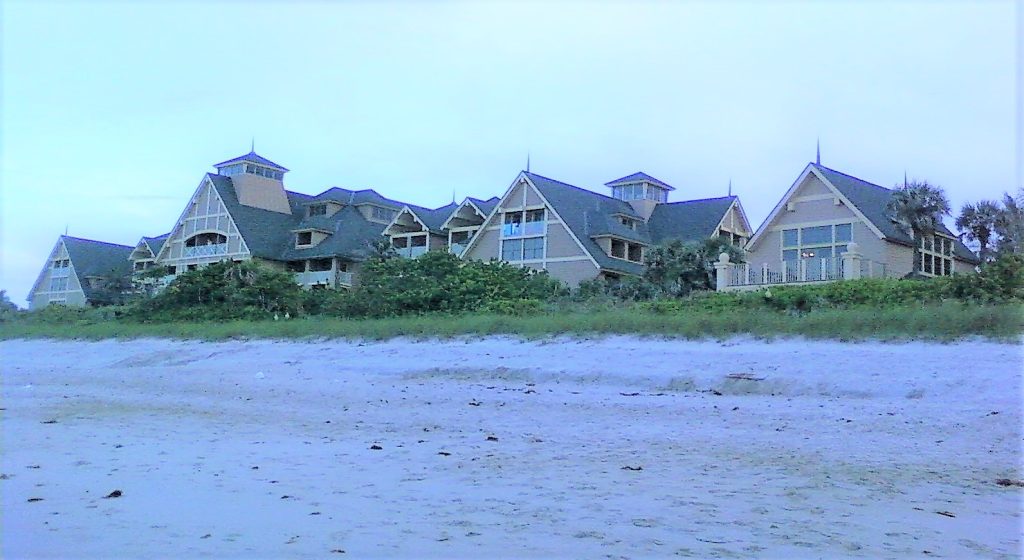 Room sizes: Studio, Inn Rooms, 1-2 bedroom villas and 3 Bedroom Beach Cottage
Vero Beach is located about an hour and forty minutes SE of Walt Disney World. So many great memories here. We would start our trip at Disney World and end at Vero Beach. This is a great way to relax after a busy trip to Disney. Just rent a car at Disney and then drop it off at the airport on your way home. You have a fantastic pool with a putt putt course or the beach to enjoy during the day. If you prefer a little exercise, try the bike rentals and take a ride down the 7 mile bike route. And at night you can enjoy dinner at Wind and Waves Grill or head offsite to a couple of our favorites Squid lips or Captain Hiram's. Don't forget to visit The Green Cabin Room located on the second floor inside the the resort, the views are amazing at sunset. Check out our DVC Vero Beach page or Disney's official Vero Beach page.