Rent DVC Points at Disney's Beach Club Resort
December 15th, 2021 Back to posts
---
December 15, 2021 By DVC Advantages
Are you not a DVC member yet or have you run out of DVC points? Renting DVC points to stay at Disney's Beach Club is a great way to accomplish your stay at Walt Disney World.
Disney's Beach Club resort is a charming New England-style hotel that offers guests exquisite dining and relaxing experiences. Offering some of the same amenities that the Disney Yacht Club Resort offers.
Here are some of the best offerings this resort has to offer to both DVC members and non-members:

Location
The location is amazing allowing guests to walk to the International Gateway entrance of Epcot in less than 10 minutes from the villas. It also provides a simple boat ride to/from Disney's Hollywood Studios and is a few steps away from the new Skyline Gondola system. Of course lets not forget Disney's beloved bus system, that will take you around the WDW property. The Beach Club is also directly across the lake from the Boardwalk, which boast many night time activities and dining options.
Dining
Some of the best dining on Disney is located at the Beach Club and Yatch Club resorts, with 10 different dining and snack locations. Start the day off with a Breakfast at Cape May Cafe (hopefully Disney will bring back the wonderful character breakfast they had here previously in the future). Spend the day at the pool at Stormalong Bay and have lunch at Hurricane Hanna's Grill. For dinner enjoy a wonderful steak at the Yachtsman Steakhouse. Finish the day off after dinner by going to Beaches and Creme for dessert and indulge in the well known "Kitchen sink". These are just a few of the dining options, click the link Disney's Yacht and Beach Club Resort Restaurants provided by the Disney Food Blog to see more options.
Fitness / Spa
Whether you want to enjoy a full body massage, facial or don't want to skip leg day, you can do it all at the club. The spa services are available to anyone.
The fitness center is open 24 hours a day and 7 days a week so you can workout any time you desire. The fitness center is available for guests who stay at the yacht or Beach club.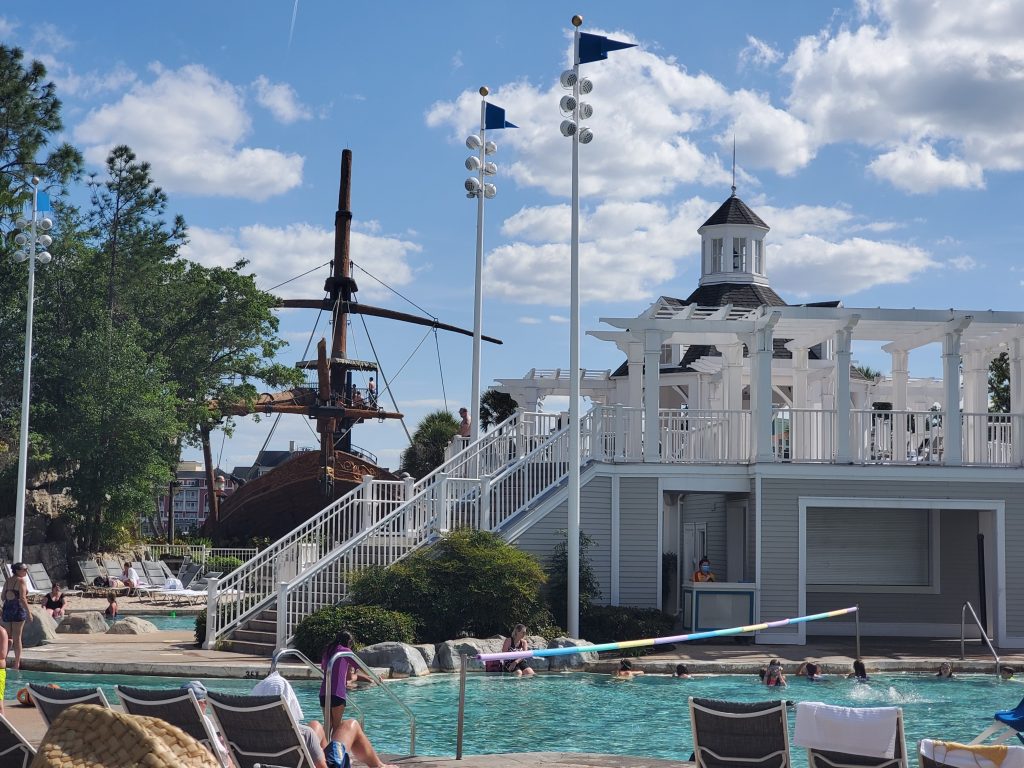 Stormalong Bay / Water Recreation
Stormalong Bay at Disney Beach Club Resort is the most popular pool on Disney property. It offers a 3-acre water wonderland that families fall in love with in an instant. The most unique feature of Stormalong bay is it's sand bottomed pool complete with it's own beach. Explore a life-size shipwreck, or lagoons and pools at Stormalong Bay or climb the mast to slide down the waterslide at the resort.
Guests can also ride on inner tubes in the lazy river or relax in one of the 3 whirlpool spas that the resort has to offer. In fact, you can even get a nice tan right on the elevated tanning deck. Don't worry about the kids getting bored. They can wade in and splash about in the sand bottomed kiddie pools including one that has a mini water slide.
Looking for peace and quiet? The quiet pool in front of the DVC Villas is a great way to relax at the end of a busy day. Other quiet pools at the resort can also be found.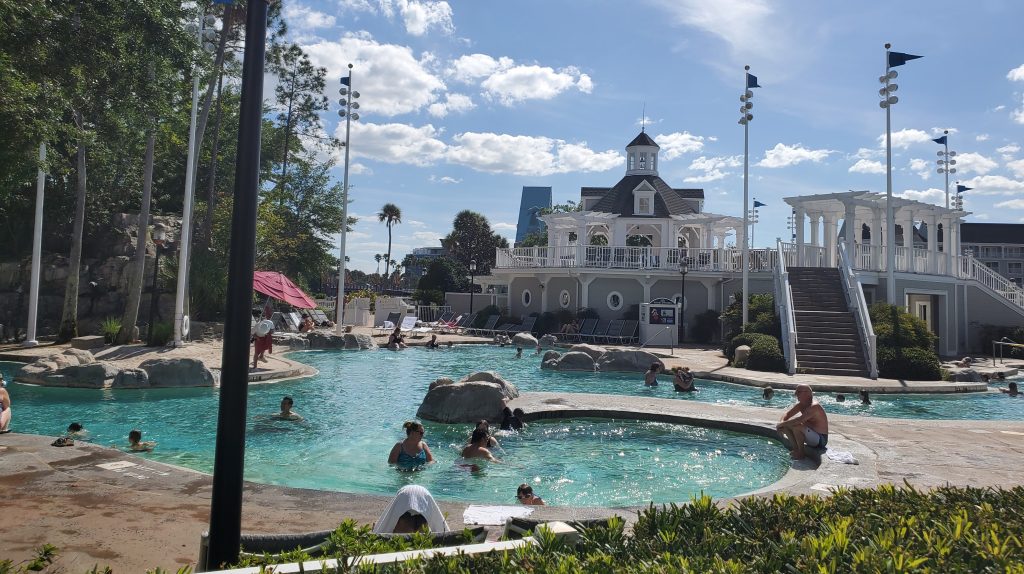 Book Rooms That Are Reminiscent Of Home
If you visit the Disney Beach Club Resort, book your stay using DVC points in a Disney Deluxe Villa if you want all of the amenities of home. Accommodations range from Studios that sleep 4-5 to 2 bedrooms that sleep 8-9. Some of these accommodations include a washer/dryer, kitchen and private bedrooms. The villas offer accommodations that go beyond the traditional hotel room. Each room is attractively decorated in pastels with New England-style furniture. Ocean themed art and patterned carpets complete the stunning ensemble.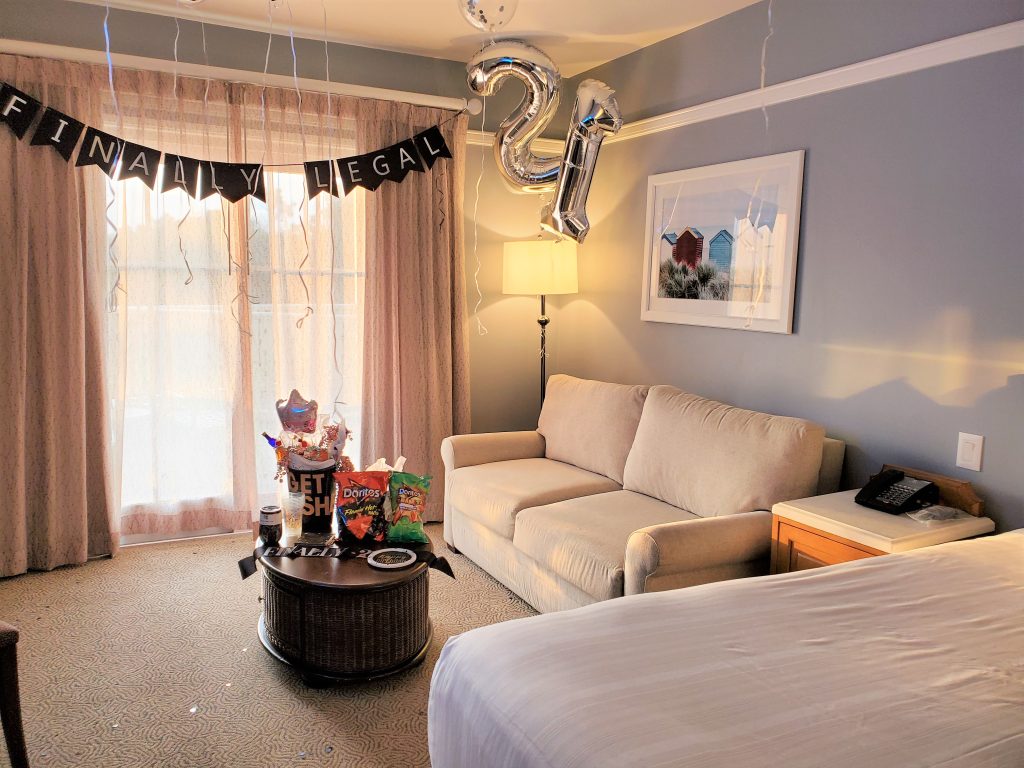 DVC villas are part of the Disney Vacation Club timeshare program, but they are also available to the general public. Book your stay through DVC Advantages today before they are snatched up! Villas go really fast and are subject to availability. Try to plan ahead at least 7-11 months in advance, so the member you are booking with has Home Resort Priority! However don't be afraid to look for last minute openings.
At DVC Advantages, we offer a range of Disney vacation options for both DVC members and non-members. Get in touch with us at 833-382-3325 extension 0 (zero) to rent points and finalize your booking today!